Last week I posted images of a Ferruginous Hawk nest with chicks in Montana.  I actually photographed two of them.  These chicks were slightly older than those in my first post.  A very long drive was required to get to this nest so the images were taken at mid-day and the light was harsh and there's no light in the eyes of the birds.
This nest was very close to a major highway which surprised me.  Ferruginous Hawks are known to be extremely shy when nesting but this pair had obviously become completely acclimated to the constant traffic and highway noise.  I photographed the nest from the side of the road (in the barrow pit, actually) and never exited my pickup.  The birds weren't disturbed in the least by my presence.  In fact, one of the adults spent the entire time perched on the top of a power pole alongside the road within about 30 feet of my pickup.  I had to look almost straight up to see it.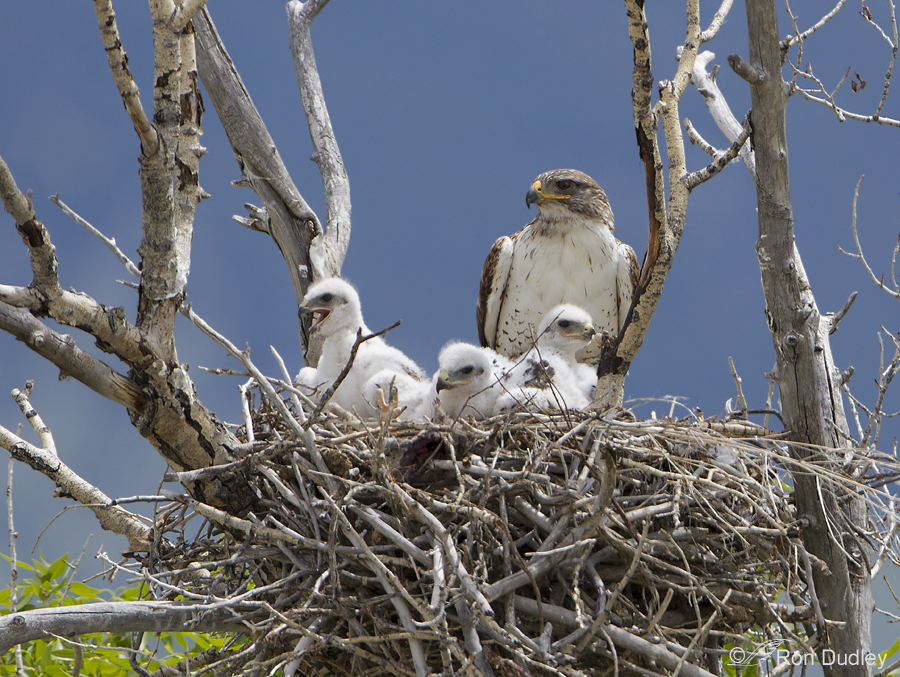 The other adult was at the nest only briefly and spent most of its time perched in a nearby Cottonwood tree.  There were at least three chicks – all seemingly healthy and active.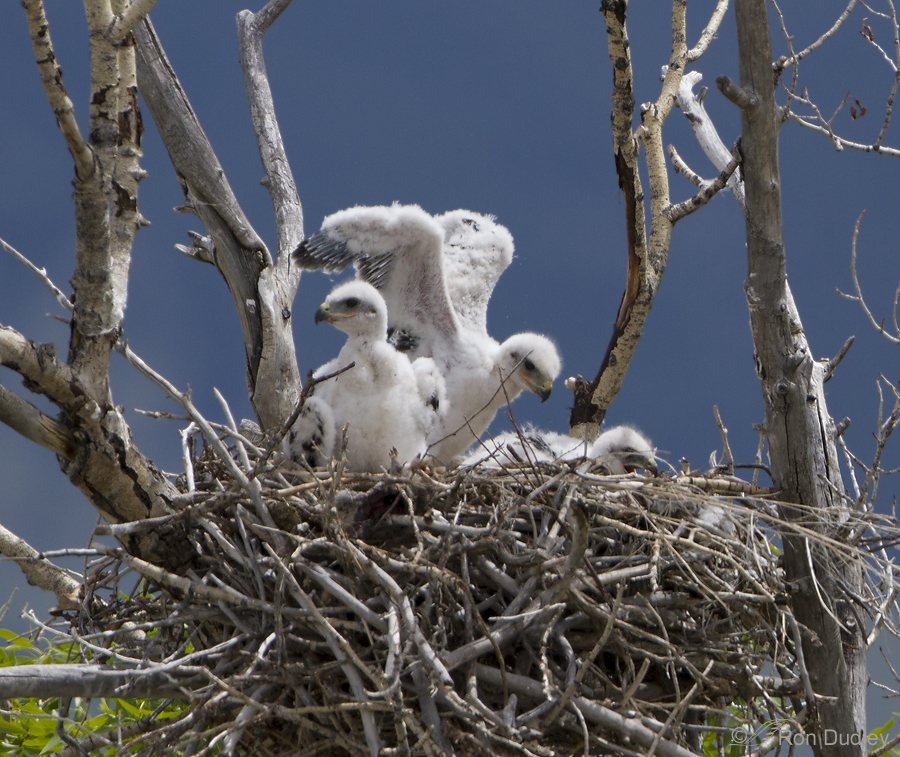 They spent most of their time sleeping, yawning and stretching.
And pooping.  At this age the chicks seemed fastidious about nest sanitation by defecating over the nest edge.  It was both endearing and tense to watch the wobbly chick slowly and very carefully turn around and back up to the edge of the nest prior to doing its duty.  Here one of the chicks finally got close enough and…
let fly.  You can see the excreta in the air behind the bird (at first glance it may appear to be a tree twig).
Watching this happen made me wonder how often unstable chicks fall out of the nest while defecating – especially when the wind's blowing (as it often is in Montana).
This is the nest tree.  The image was taken at 100mm which should give you an idea of how close the nest was to the highway – very unusual for Ferruginous Hawks in my experience.  I would never approach a Ferrug  nest this closely in an isolated area where the birds haven't been acclimated to human activity.
Ron
Note:  I'm on the road again and will be for much of the week.  I'll have no computer access on this trip so I won't be able to respond to any comments that may be made (though I do get them via phone email and enjoy reading them while I'm in the field).