If there's a group of birds on the face of the earth that is almost universally loved, it seems to me that it would have to be owls.
Many folks are captivated by them for their large foreward-facing eyes, quizzical expressions, eerie vocalizations and the sense of mystery provided by their generally nocturnal habits.  Others appreciate their many unique adaptations, such as silent flight and their ability to turn their heads 270 degrees.  There's just something about owls…
1/640, f/9, ISO 400, 500 f/4, 1.4 tc 
And for many of us Burrowing Owls are at the pinnacle of that adoration.  Their comical antics, especially those of the juveniles, tug at our heartstrings and make us smile.  And they're more accessible to viewing than are most owls because they're active during daylight and spend much of their time on the ground close to their burrows instead of being hidden high up in trees.  The flip-side to all this is that Burrowing Owls are extremely vulnerable to unthinking human intrusion – especially while they're nesting and caring for chicks or juveniles.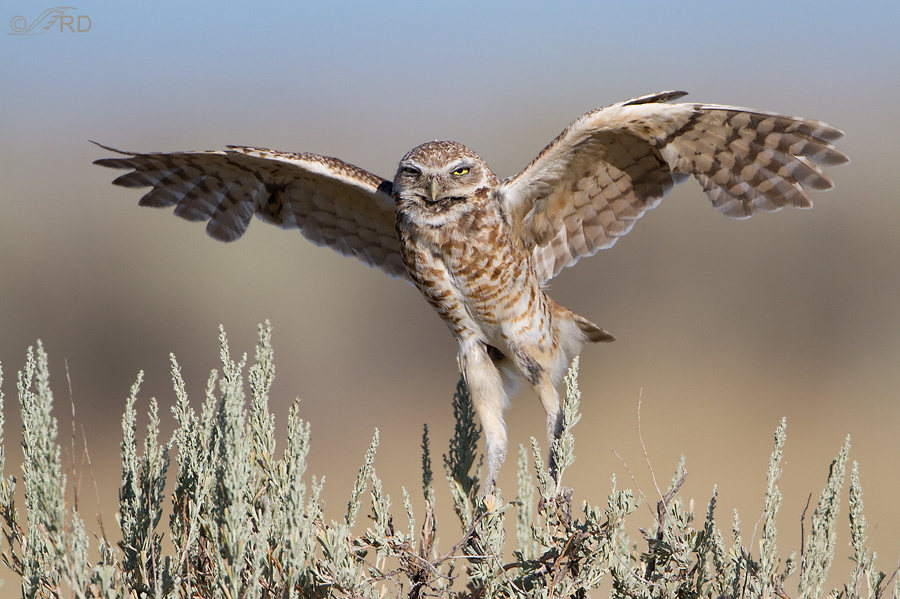 1/4000, f/6.3, ISO 500, 500 f/4, 1.4 tc
In Utah the burrows of these owls are typically found among sagebrush, which they often use as perches during early morning.  This allows the patient and ethical birder or photographer a good look at the birds without having to get too close in order to see through the vegetation usually found in the burrow area.
It's not unusual for Burrowing Owls to nest close to roads and when they do they become accustomed to traffic.  If you stay in your vehicle and are patient with them they will go about their normal, natural business without being unduly disturbed.  But one must be mindful of any sign of nervousness, especially during nesting season.  If the owls begin to bob their heads and "chatter" you are too close.  These owls will abandon burrows and nests with too much human disturbance and their burrows may collapse from foot traffic so the burrows should never be approached closely.  The populations of Burrowing Owls in North America have declined sharply in recent years from the cumulative effects of human activity and they have been listed as a "Species of Special Concern" by the US Fish and Wildlife Service in several western states, including Utah.  They need our help and deserve our respect.
I've photographed Burrowing Owls on Antelope Island for six years now.  I shoot from my pickup from the edge of the road.  When their burrow is close to a road they usually become accustomed to vehicles but as soon as you exit your car their behavior immediately changes and they generally fly off so I never even open the door.  However, when they're caring for chicks or juveniles they're more reluctant to leave the area so they will typically fly a very short distance and show signs of alarm and stress.
I've included the photo above to show you a typical scenario when I'm photographing Burrowing Owls from my pickup.  The red arrow marks the owl.
Now to the heart of the matter.  When I first started photographing birds there were Burrowing Owls near some rock piles southeast of the visitor center on Antelope Island and that burrow was active for several years.  Then one spring about five years ago they abandoned the burrow.  I asked one of the employees at the visitors center what happened and he told me that the owls had been "loved to death" by human visitors to the island.
1/3200, f/6.3, ISO 500, 500 f/4, 1.4 tc
Then we found another active burrow close to the road and photographed those birds for several years.  As is typical they were accustomed to the traffic and not disturbed if folks watched and photographed them from their vehicles.  Early in the spring last year an obviously mated pair of owls showed up at the burrow and set up residence.   But as we drove by the burrow on the morning of March 13, 2011 both Mia and I were aghast at what we saw – a group of birders and photographers had left their cars and were walking all over the burrow area, including tramping right over top of it.  We never once saw two owls at the burrow after that day.  One of the birds stuck around until mid-summer and then was gone but obviously no chicks were produced that year.  While this owl was still there it would chatter in alarm and hide low in the sagebrush or fly off almost every time a vehicle stopped along the road – a behavior it had never exhibited before.  We got very few images of this bird after "the incident", partly because we didn't want to disturb it further.  This was one of the last shots I got of that owl, taken on 6/22/11.
1/1600, f/7.1, ISO 640, 500 f/4, 1.4 tc
Thankfully, a pair of owls showed up at the burrow area this spring and raised a clutch of chicks.  We've seen at least four of the fledglings and these are two of them.  As you can see from their unmarked, buffy bellies these birds are still very young and they have been banded.  At this age they spend much of their time on the ground hiding among the sagebrush and grasses while waiting for the parents to bring them food.  It's a bonus to catch them up on the sagebrush in good light like this.
Then it happened again.  Last Wednesday, 6/27/12, as we drove by the burrow area there was a photographer who had left his vehicle and was photographing the owls at extremely close range in the immediate vicinity of the burrow and all the sagebrush that these owls habitually perch on (outlined in red).  As we passed by with our windows open we could hear the adult owls screeching and chattering in alarm at his intrusion.  I drove further up the road, then turned around and watched what was happening through my lens.  The image quality of these last four shots is poor because I was so far away from what I was photographing.  In this image the photographer is walking toward the owl after it had been flushed to a new perch.
In this extreme crop of the previous image you can more clearly see the owl the photographer is approaching.  At this point we were upset by what we were seeing and left the area.
49 minutes later we returned to a slightly different vantage point and the photographer was still shooting the owls.  Of course the chicks were trying to hide in the grasses and sagebrush and the adult was fairly reluctant to fly off very far with the chicks in such a vulnerable situation.  The photographer had been shooting the adult on the right when he apparently saw one of the chicks on the ground and was aiming at it in this photo.
When the photographer would get too close the adult would flush and fly to another nearby sagebrush and the photographer would attempt to approach it again.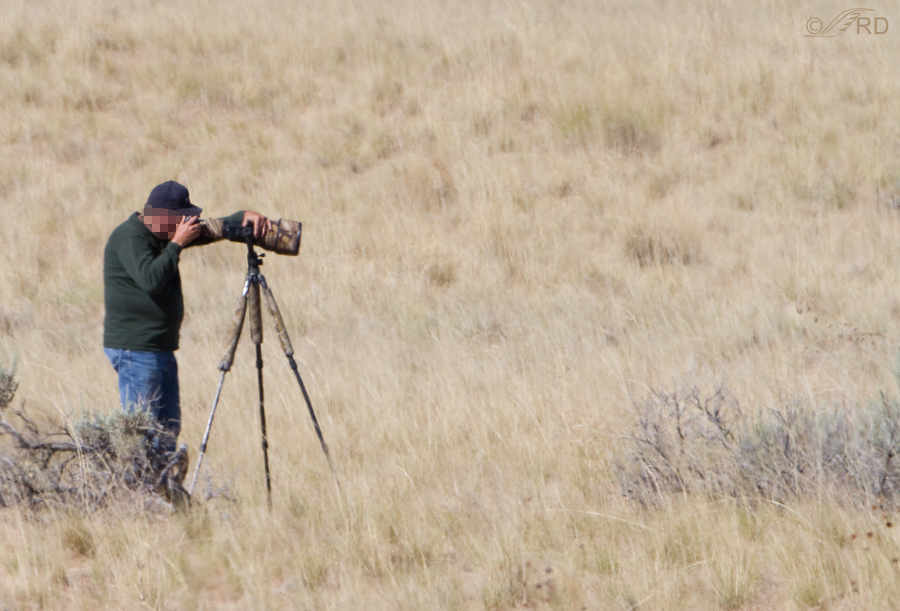 You can extrapolate just how close this photographer was to one of the owls (out of frame to the right) by noticing the angle of his lens relative to the ground.
Please, lets all of us give Burrowing Owls the space and respect they need and deserve!  If birders, bird photographers and the general public don't start policing themselves better I'm afraid restrictive regulations will be put in place to better protect these fragile birds (and others) from being "loved to death".  If we don't do it, someone else will surely do it for us and it won't be pretty.   And if that becomes necessary, everyone loses – including the owls.
"The Shot" simply isn't worth it.
Ron
Note:  All of these images were taken recently from my vehicle at the sagebrush patch referred to in the post with the exception of the first photo, which was taken several years ago along the causeway to Antelope Island.