Multiple times in the past few years there's been a Northern Harrier perched on one of the bushes around this gravel parking lot but without exception every time I've tried to approach the bird it has flown off before I could get close enough for a quality shot.  Frustrating…
So earlier this week when I spotted a handsome male on the large darker bush to the right in the photo below I decided to try a different tack.  Birds very often seem much less inclined to spook if there's something between them and the photographer and it doesn't have to be anything very substantial – even a few twigs will often do.  Having something physical between them and a potential threat seems to give them a sense of security.  So even though I've often cussed this ugly old dumpster over the years (I realize it's there for a very good reason) I decided to try to put it to good use for my purposes.
I slowly drove to the left of the dumpster, turned around and approached the bird with the dumpster between me and the harrier.  The harrier obviously knew I was there but with the ugly old hunk of metal between us it didn't fly off.  Then as I got very close to the dumpster I slowly turned to my right just far enough to give me a look at the bird through my lens from my pickup window.
1/3200, f/6.3, ISO 500, 500 f/4, 1.4 tc
 As you can see the harrier was wary but he gave me just enough time to get set up on him before he flew.  My only hope for any decent images was flight shots because so much of the bird was obscured by the vegetation.
 1/3200, f/6.3, ISO 500, 500 f/4, 1.4 tc
Because of the direction the bird was facing (slightly away from me) I didn't have a lot of hope for acceptable images because I figured he'd turn to his left as he took off and give me butt shots only.  I have enough of them already...  But this bird surprised me by cooperating in that regard.
Full disclosure: I clipped the very tip of the third primary in this image so I had to "repair" the feather and add a narrow strip of canvas up top for composition – but I wanted to include the photo as an integral part of the take-off series.
 1/3200, f/6.3, ISO 500, 500 f/4, 1.4 tc
 Normally this photo is not one I'd keep because so much of the head is hidden by the wing but I liked the peek-a-boo effect of the eye just well enough to hang on to it and include it here.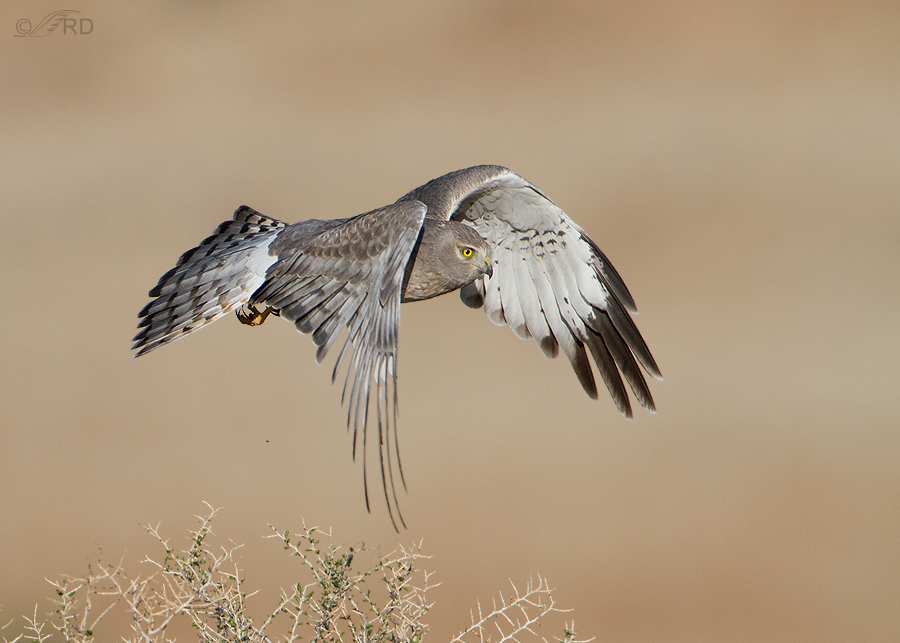 1/3200, f/6.3, ISO 500, 500 f/4, 1.4 tc
 This one is probably my favorite of the series.  The dark spot below the bird is flying debris from take-off.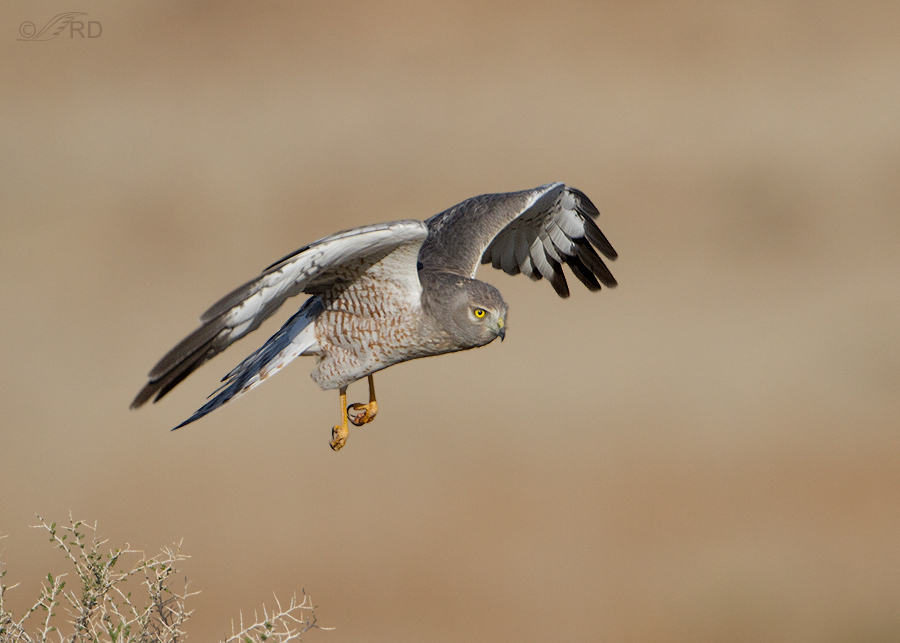 1/3200, f/6.3, ISO 500, 500 f/4, 1.4 tc
Blood from a recent meal (most likely a vole) is clearly visible on the left foot.
 1/3200, f/6.3, ISO 500, 500 f/4, 1.4 tc
With this wing position I often clip a wing tip but I got lucky on this one.
 1/3200, f/6.3, ISO 500, 500 f/4, 1.4 tc
The last in the series before I lost focus on the bird as it passed some near some vegetation in the background.
I learned something with this bird.  I'm the first to admit that I'm the poster child for the phrase "creature of habit" (something Mia loves to tease me about relentlessly).  I tend to instinctively and repeatedly do things the same way.  I wish I'd thought of using this dumpster to approach harriers several years ago but it just never entered my mind.  Gotta remember to be a little more flexible in my approach…
Another thing I wanted to illustrate with this post is the value of a camera with a relatively fast burst rate.  My Canon 7D shoots 8 frames per second which is invaluable during fast action such as take-offs.  Many flight postures just don't work very well so the more shots you can take in the very little time you have when a bird launches the better chance you have of getting something you like.  You can see from the file numbers of the 6 take-off images here (those numbers can be seen by passing your cursor over the image) that they're all sequential with the exception of #0616 which I didn't include because of a poor wing position.
Ron