Farmington Bay Wildlife Management Area is typically a mecca for birders and bird photographers during January and February.  When it gets very cold many of Utah's wintering Bald Eagles congregate there and create quite the spectacle for avian enthusiasts.  Though I'm not particularly fond of photographing birds among throngs of people I usually can't resist the unusual opportunity with these magnificent birds and join in the fray multiple times during the "season".   
  1/1250, f/7.1, ISO 500, 500 f/4, 1.4 tc
One thing that especially appeals to me about Farmington Bay is the opportunity to photograph these eagles in flight with the Wasatch Mountains as a background.  Even though such a background makes it much more difficult for focus to "lock on" the bird I really like the dramatic backdrop the dark, often shaded mountains provide when there's light on the eagle – much more appealing for me than the typical blue sky background. 
Typically there are hundreds of eagles at the refuge during "prime time".   I once counted 225 birds and that's just the ones I could see.  Others have reported from 300-400 birds.  This photo should give you some idea, though it shows just one small portion of Unit One.  The concentration of birds was about the same that day everywhere you looked over the ice. 
This is the famous "eagle tree".  I've seen as many as 20 birds on this one perch alone.  Of course the eagles prefer to look south over the ice and water so it's difficult to catch multiple birds in the tree looking toward the photographer. 
 1/2000, f/8, ISO 500, 500 f/4
Most of these birds are fairly wary of people, at least at first.  But every year there seems to be one eagle that sort of "adopts" humans and almost seems to enjoy being very close to them.  Two years ago this 4th year bird hung around a pole near the "owl bridge" and didn't fly off with vehicles going by within a few feet of it.  Notice I didn't even need my teleconverter for this shot and it's a small crop.  Last year the "tame" bird was a first year juvenile (I believe) that was even more acclimated to humans and would land on perches within about 15′ of multiple photographers.  Believe me it is very impressive to have this huge wingspan coming at you at such close range.  However, this type of familiarity with humans is the exception rather than the rule. 
  1/1250, f/8, ISO 500, 500 f/4, 1.4 tc
Before fish become available in large numbers as a food source (more about that below) the eagles must scrounge for themselves and competition for a meal is fierce.  Here one of the eagles has killed a coot (under the bottom bird) and carried it out into the flats to enjoy its meal in peace but the tranquility was fleeting as three other eagles and two ravens almost immediately came in for their fair share.  The pandemonium easily lasted for ten minutes.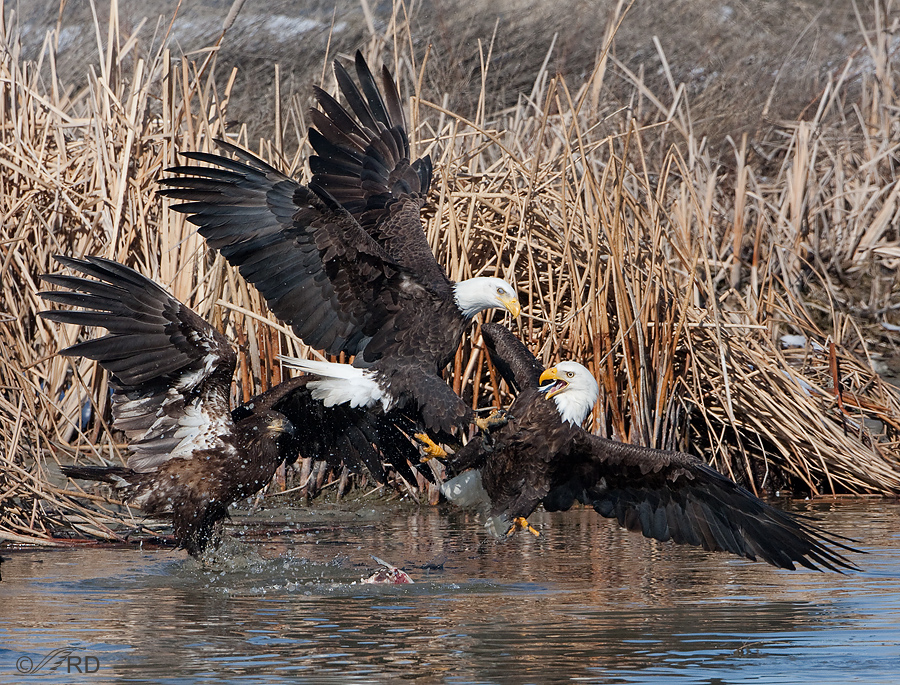 1/2500, f/8, ISO 500, 500 f/4
Typically sometime in early February refuge personnel use rotenone (a naturally occurring chemical found in some plants) to kill the invasive carp that cause so much damage to the marsh plants vital for waterfowl – that's when things get really exciting at Farmington Bay.  Usually the fish float down the stream channels and collect in ponds or in front of bridges which concentrates the eagles.  Eagles are extremely competitive for food and their skirmishes can be very dramatic.   All this tension provides many interesting opportunities for birders and photographers.  
And given an opportunity like this, believe me the bird photographers will come.  Hordes of them.  This was the scene at the "4 way" pond on the early morning of February 12, 2009  before the sun came up over the Wasatch.  Each of the 22 vehicles contained at least one photographer and there were others along the dike road behind me.  Many of those photographers arrived when it was still pitch dark in order to stake out the best spots for photography. 
Which brings me to the point of this post.  This winter at Farmington Bay has been a stark contrast to previous years – there just aren't any eagles, at least not many.  Every time I've been out there this season the eagles have been very scarce.  I was there yesterday morning and counted 4 eagles, all far off or flying high overhead.  Others report similar findings. 
Why the difference this year?  I believe there are two reasons for it.  This winter has been unusually warm with very little snow and I suspect that many of the eagles simply didn't need to migrate as far south as Utah in order to survive the winter comfortably.  I've also heard reports from other areas of the country (particularly the mid-west) of lower than normal numbers of eagles this winter. 
And the bird photography "grapevine" is reporting that, for whatever reason, the carp weren't killed this winter (at least so far).  With such an easy food source unavailable to the eagles it seems logical that Farmington wouldn't draw in many of the birds that may be in the area.  This will be deeply disappointing to many photographers, especially those who come in from out-of-state for the eagles.
But such are the vagaries of bird photography…
Ron
PS – If the situation at Farmington should change in the near future I'll report it here immediately. 
Update on Feb. 17, 2012 – Mike Shaw reports (see his fairly detailed comment in my comment section) that the carp have now been killed at Farmington so there's plenty of fish for the eagles but their numbers out there are still very low.  Mike knows what he's talking about when it comes to raptors so you might want to check out what he had to say.