Long-tailed Weasels are obligate carnivores (eat meat exclusively), preying largely on smaller rodents but also take rabbits, chipmunks and birds – including poultry.  They take down prey several times their size and occasionally go on killing sprees triggered by the smell of blood.
Long-tailed Weasel, summer molt
Their long black tipped tail, slender bodies and darker brown coloration above with creamy white ventral parts are identifying features.  The very similar Short-tailed Weasel is smaller and has whiter feet.
In this case the prey is another weasel
While driving the loop road at Bear River Migratory Bird Refuge this weasel ran in front of us carrying another weasel that it had apparently killed.  Weasels are cannibalistic at times and I'm relatively certain that this kill was destined as a meal rather than the kill being made simply out of aggression because the winning weasel was very reluctant to abandon its prize even with us very close.  It took a great effort for the weasel to carry its long-bodied kin through the grasses and reeds and it simply would not abandon it.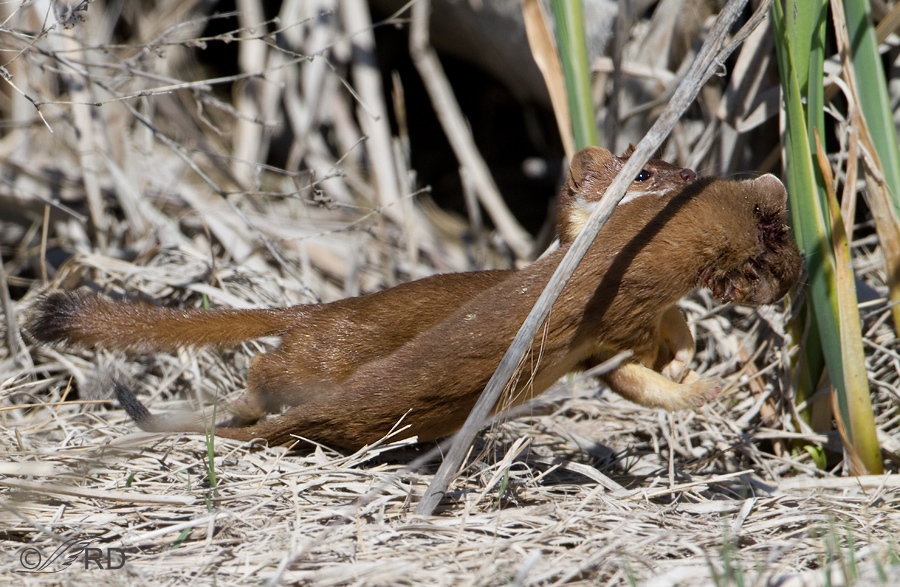 Hopping with it's prey
Here you can get a feel for how difficult it was to drag the long body through all the obstructions so most of the time it would hop forward, one jump at a time, presumably with its burrow as a goal.
Long-tailed Weasel, winter molt
As winter approaches, northern weasels molt to white (while retaining the black tipped tail) - the advantage of this is obvious.  Interestingly, many weasels living in the southern part of their range do not turn white.  This color change is genetically determined since northern weasels captured and taken south still turn white in winter while southern weasels transported north remain brown.
Winter molt
Many call white Long-tailed Weasels in winter "ermines" but this is technically incorrect.  Only the Short-tailed Weasel is correctly called the ermine.
Weasel with a vole it has killed
It's fascinating to watch these efficient killers hunt.  I observed this weasel hunting in front of a Phragmites stand and was transfixed by its sinuous and seemingly effortless movement over rocks and other obstacles.  It had this vole in its jaws in an instant with what seemed like no real effort expended.  I was very impressed with its prowess.
 Weasel with the same vole
After capturing and killing the vole it would stop and look at me then take a few bounding jumps and then stop and look at me again.  It soon disappeared in the grasses with its prize.  I had a very difficult time getting any clear shots of it through all the vegetation.
I've always been fascinated with the entire Mustelid family – weasels, Badgers, Martens, otters, skunks, Fishers, mink, ferrets and Wolverines but I've had very little luck photographing them.  Hopefully, that will soon change.
Ron
Note:  A comment on a later weasel post by Master Falconer Mark Runnels brings into question my assertion that some of the photos here were related to cannibalism.  Marks fascinating comment is below:
I don't know anything about weasels, but we keep their close relative, ferrets, to hunt with our Harris' hawks. If the rabbit goes into a hole in the ground, or more commonly, into a piece of oilfield pipe, we can send the ferret down to get it moving again.
Several years ago, when I was in college (yikes! that was 25 years ago!) I decided that I wanted to breed my jill (female) and raise a litter of kits. The owner of the male tried to warn me not to watch, but I was interested in anything related to ferret biology, so I stuck around. Ferret breeding is a violent business! The much larger hob (male) male grabbed my jill by the scruff of the neck neck and beat her head against the hardwood floor, furniture, or any other hard surface he could find. This continued for several minutes until she was completely unconscious after which time he drug her limp body around the room for several minutes before finding a quiet corner and copulating with her several times. Once she regained consciousness, the two carried on as though nothing unusual had happened. I am not usually squeamish, but I could never again breed one of my jills and started having them spayed. Natural or not, I didn't have the stomach to watch that again! I have since learned that this behavior is normal and is typical of minks as well, but not skunks.
Why am I sharing this disturbing behavior with you? I got to wondering it the cannibalistic weasel in your earlier post had really killed one of its kin and was carrying it off to be eaten, or is it possible that the breeding habits of the weasel are similar to the ferret and this was a male that had knocked out a female and was dragging her off to breed with the unconscious body in a quiet location somewhere?
As I said, I know nothing about weasel biology, but it is an interesting question.
Thanks for the great pictures.
Mark