Great Horned Owls (hereafter referred to as GHO's in this post) have been resident on the Dudley farm in NW Montana for years and are usually successful in raising one brood of youngsters.  Typically they'll nest in one of the several old granaries available to them.  
Peekaboo youngster
Most of these older granaries have seen their better days since many were constructed  in the 1930's and have had to withstand the fierce Montana wind but the owls love them for both roosting and nesting.  Here you can see a very young GHO peering out at me over the back of its sibling. 
 Siblings on granary floor
These are the siblings on the granary floor.  It has been used only for junk storage for many years so it's very cluttered but the owls don't seem to mind in the least.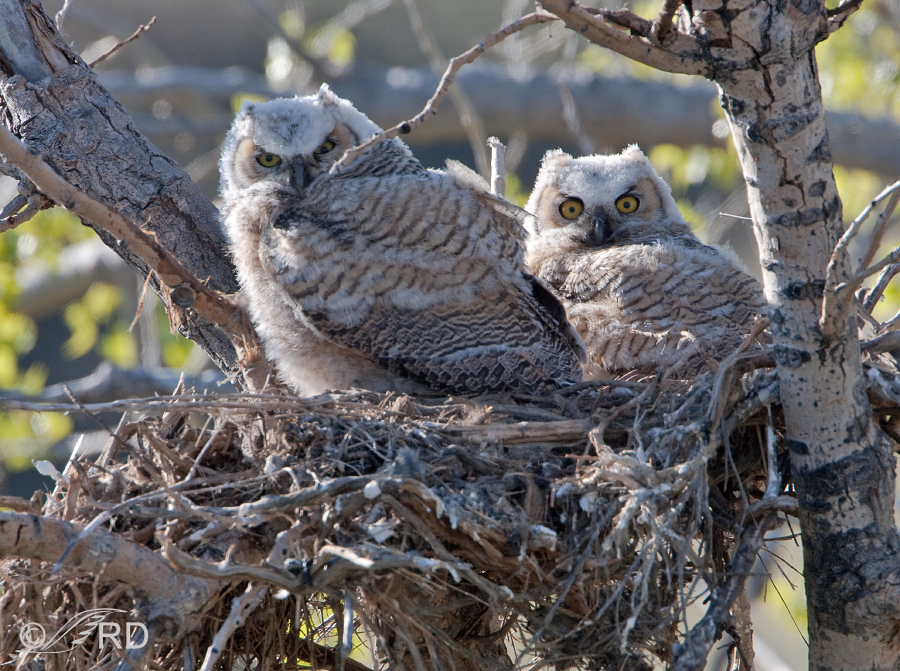 Chicks in tree nest
GHO's will often nest in trees but like other owls and falcons they do not build their own nests, preferring to take over the previously used nests of other species such as Red-tailed Hawks (most commonly), other hawks, crows, ravens and herons.  I found this nest next to a major road about 35 miles from the farm.   I don't know what species originally constructed this nest but the spring after these photos were taken the nest was being used by a pair of Swainson's Hawks.  Interspecific  recycling in the bird world…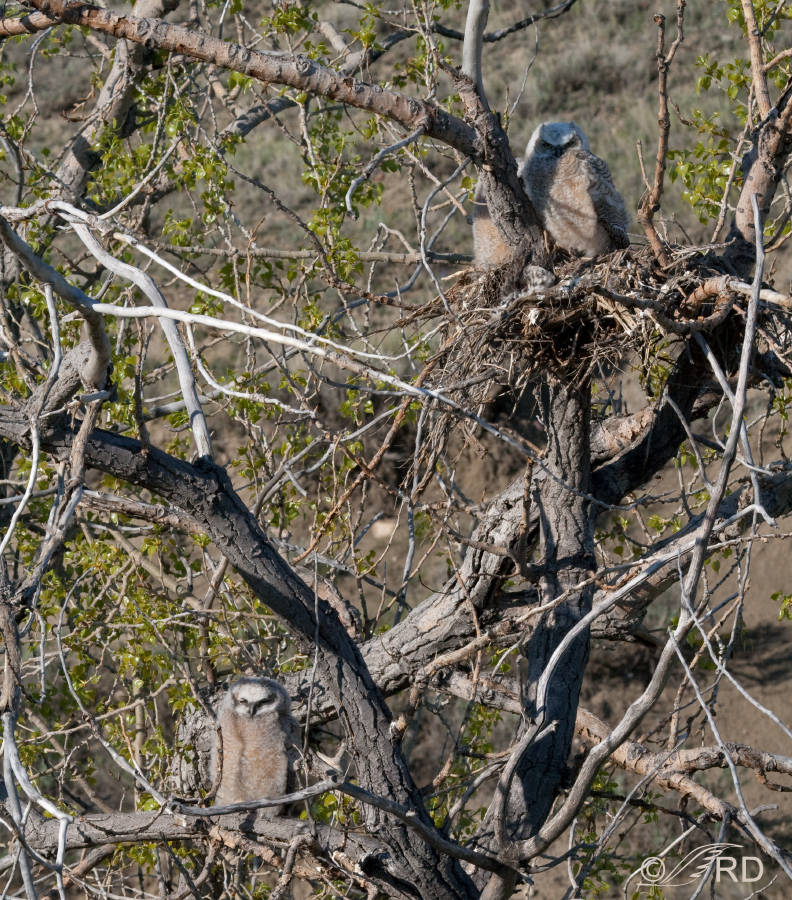 Three GHO chicks in a tree
This is the same nest as in the previous image.  As you can see the three youngsters seem to be thriving and are quite mobile.  GHO's are very capable of climbing around on the nest tree by the time they're 40 days old. 
  Fledgling at base of granary
At this stage (just over 40 days) these fledglings take their exploring seriously. 
  Yawning fledgling
Though this may look like a threat from this young owl it was only the end of a vigorous yawn.  These fledglings spend a lot of time yawning but they usually close their eyes completely when doing so.  This is as close as I came to getting the eyes open during a yawn. 
  Siblings
Sometimes they would do their exploring independently but often when they're still quite young they will venture out together.   The bird on the left had an injured left upper eyelid that was quite swollen.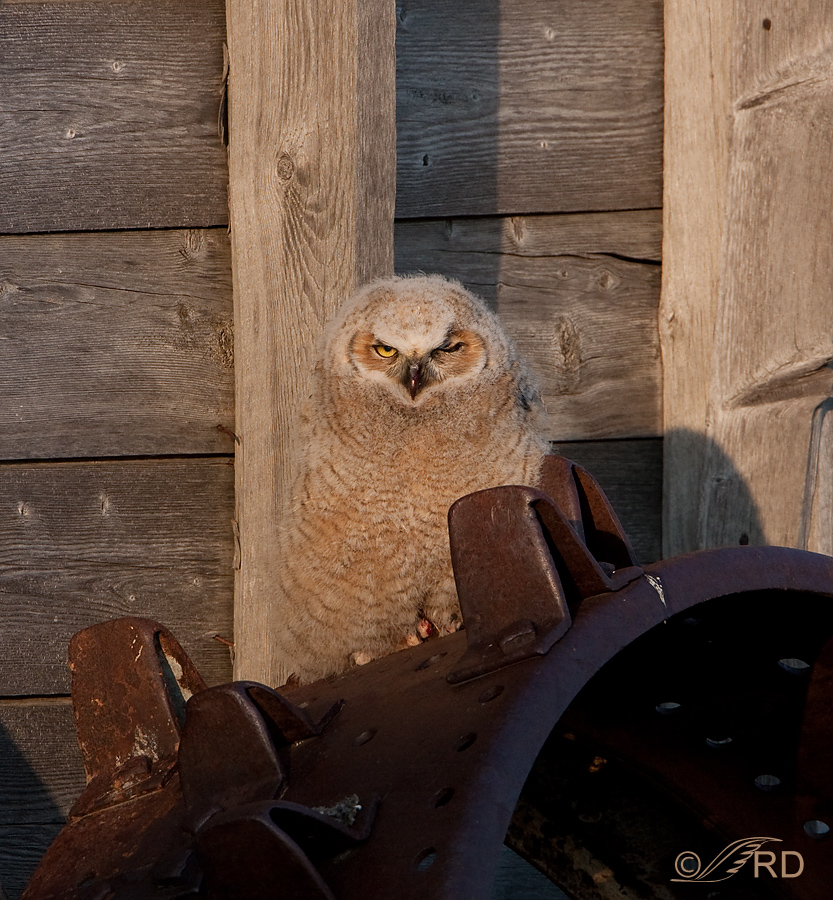 Great Horned Owl fledgling on an old lug-type tractor tire
Whenever I visit the farm in the spring I will typically take early morning and late evening strolls around the place just to see where one of these young owls might show up.  This one was dozing on an old metal tractor tire just as  the sun was coming up.  Most of the time it was sleeping but every few minutes it would pop one eye open just to see what I was up to.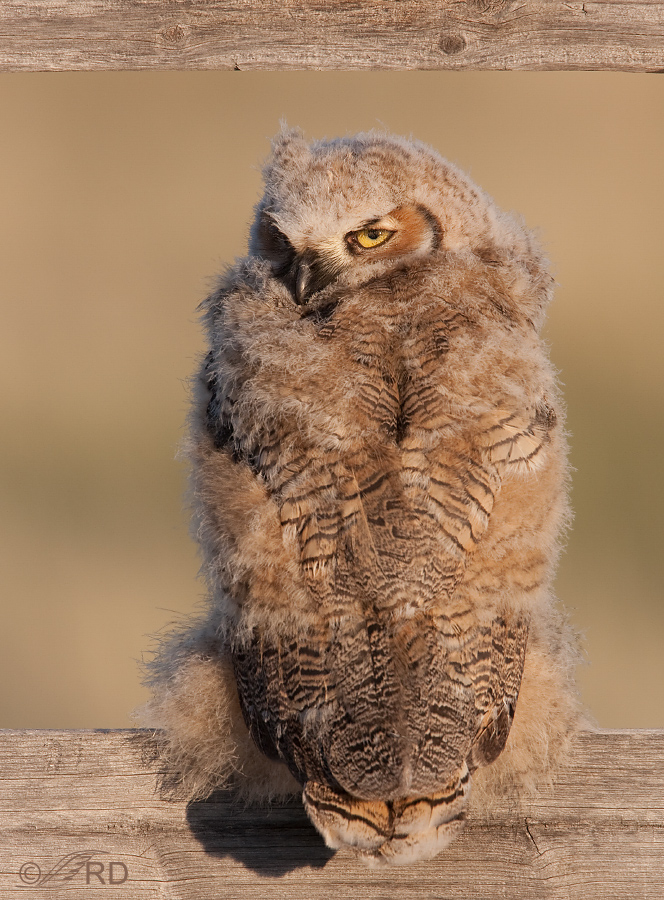 Fledgling on ladder
One morning I found this bird an old ladder.
 Back lit fledgling
Same ladder, probably the same bird but different lighting and angle.  I kind of like the rim lighting here but it won't be to everyone's taste.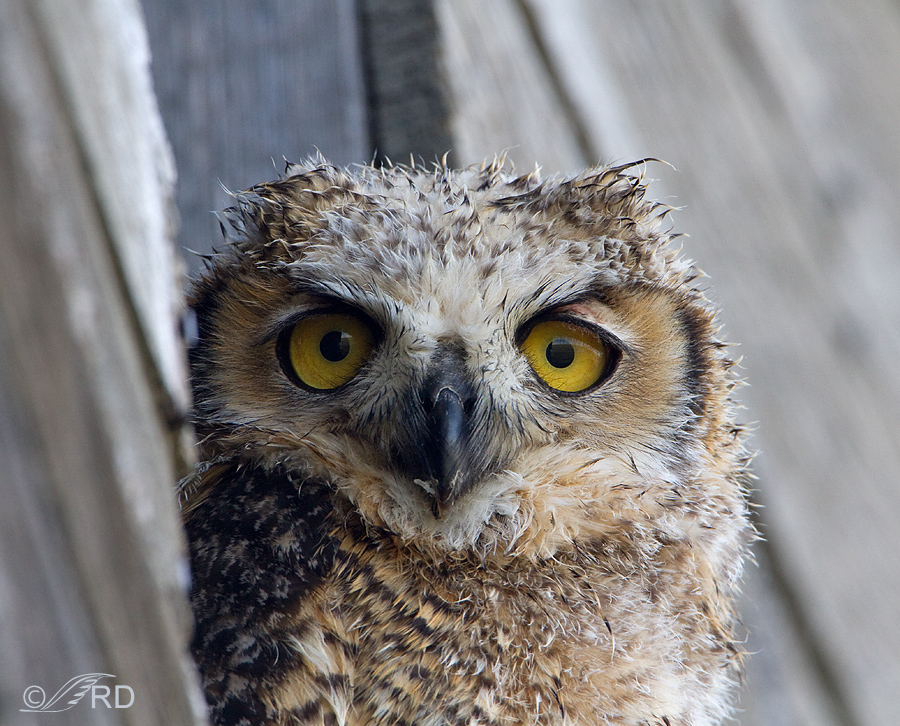 Wet fledgling
One morning just after it quit raining I peeked around the outside corner of one granary to see if there were any owls in the openings of a nearby granary.  There weren't, but as I looked up to my left this drenched juvenile was looking down at me from an opening in the granary I was next to – from no more than 20 feet away.   We were very curious about each other at such a close distance…
 Another yawn
At this stage most of the down feathers have been lost and flight feathers are devloped enough to allow flight.  This bird was perhaps 10 feet up on a supporting beam of a granary.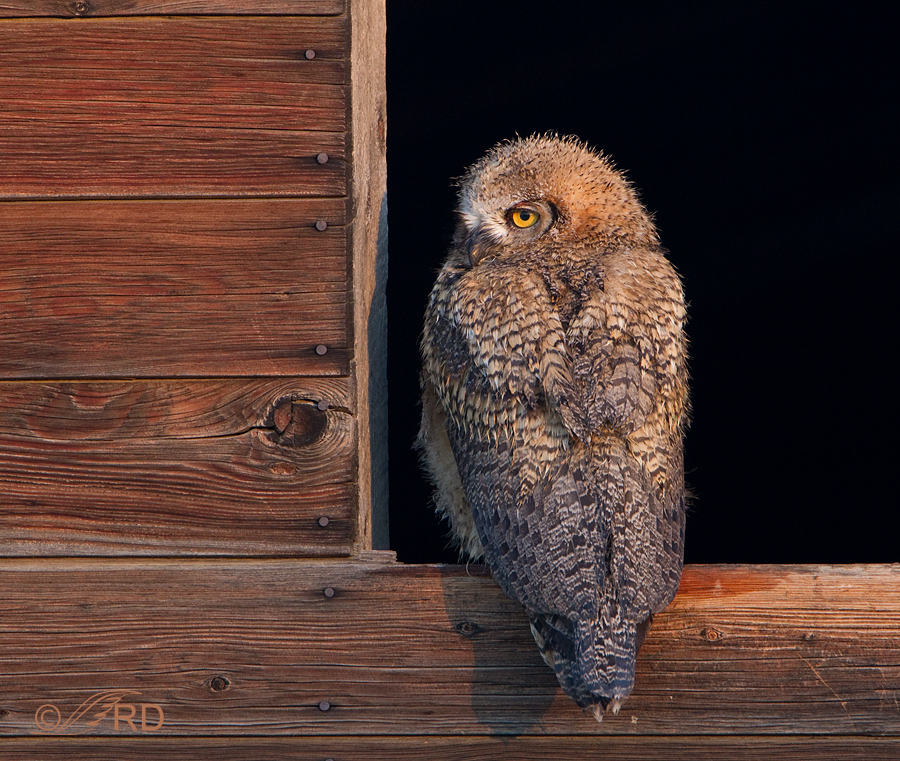 Juvenile in early morning light
On another of my early morning strolls I found this juvenile in a granary opening just as the sun was coming up.  I really enjoy images of these birds and that old wood in warm light.   Notice that this owl is now fully fledged and has lost all of its down feathers though it's horns aren't yet completely developed and aren't even noticeable in this image.
I always feel priveledged to spend time with Great Horned Owls and especially so with the young birds.  Hopefully they'll be successful in raising another brood next year and since their life span is up to 28 years perhaps the farm will be blessed with their presence for a good long time to come. 
Ron