Of the many bird species I've photographed, Burrowing Owls by far show the most "personality".  Their repertoire of silly antics, funny poses, stretches, yawns and grooming behaviors are a photographers dream.  And once they feel comfortable in your presence they will often allow you to photograph them for a very long time without flying off or retreating to their burrow.  But you have to find them first…
The antics of juveniles are even more exaggerated than those of adults.  Most of the images I will present here are of juveniles.  Some of the shots were taken in less than ideal conditions (harsh light, shadows, clutter) but I think they illustrate the goofball personalities of these birds well.
Giving the photographer a suspicious look
It's difficult to resist being anthropomorphic (ascribing human emotion or motivation to non-human species) when it comes to Burrowing Owls so I won't even try.  This juvenile looks very suspicious of me but in reality I suspect that it was only curious. 
  Wing-stretch with lifted foot, or "They went that-a-way!"
Juveniles practice their parallax skills regularly.  It involves bobbing and twisting their heads so their eyes can view an object (in this case me) from different positions.  This allows them to better determine distance to that object.   I'm sure it's serious business for the owls but to us it can sure look silly.  And adorable.  
 Reaction to sudden and unexpected rain
One sunny and hot August morning I was photographing a pair of juveniles when a single cloud passed overhead and it started to rain.  The reaction of these birds to the sudden raindrops was simply hilarious to watch.  At first they looked up in seeming surprise as if to say "Whoa, what was that?"  Then they spread their wings to apparently enjoy their cool, brief shower.  The second juvenile is just out of frame to the left.
 Ecstasy 
Then the birds seemed to go into ecstasy over the rain.  They crouched down on the perch, spread their wings and tails, lowered their heads, closed their eyes and literally trembled and shook.  I suspect it was just bathing instinct taking over but it sure looked like more than that and was very entertaining to watch.  I love this look at the long "eyelashes" and interesting eyelids. 
  Grooming pose
You never know what interesting or appealing pose you may catch a Burrowing Owl in while it's preening (grooming).  It usually happens very fast and I often don't even know what I've captured until I get home and review the images.   Sometimes there's a pleasant surprise, as in this image. 
One legged wing stretch
Juveniles do a lot of stretching – some of it very creative.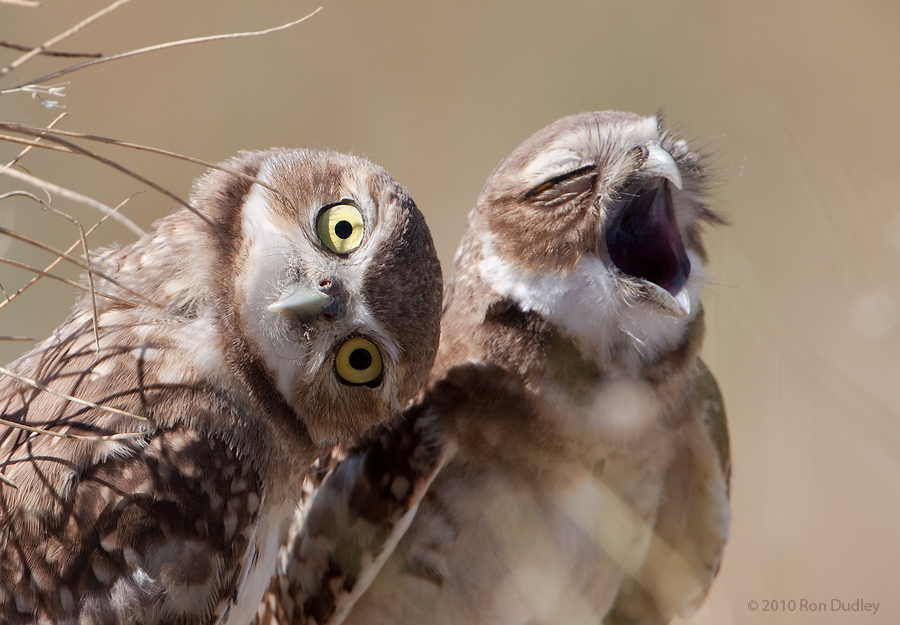 Sibling contrasts 
The youngster on the right could  barely stay awake.  I must have bored him/her.  Its sibling was fascinated by me however.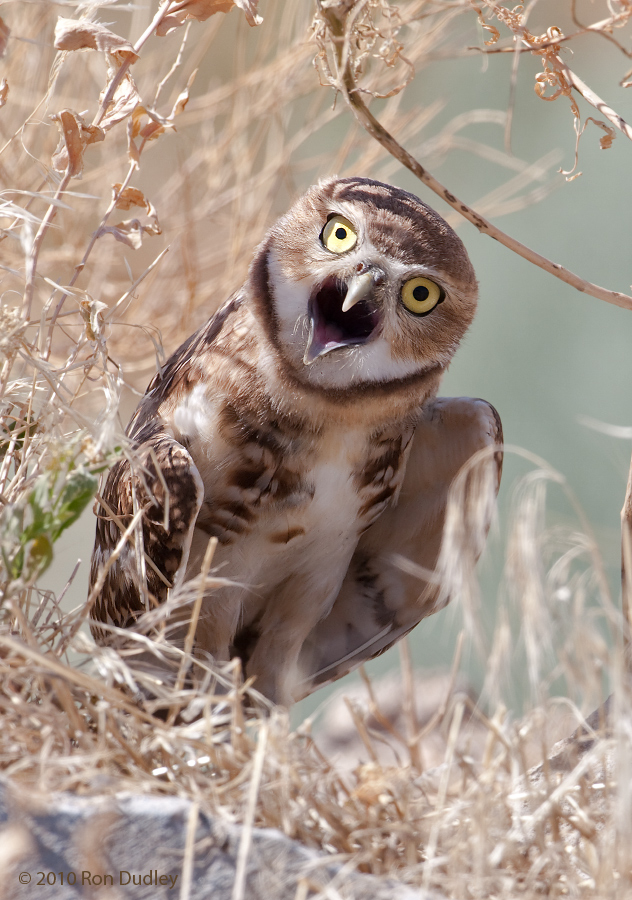 It's only a yawn 
While this bird may look threatening, even angry, in reality it was simply overcome by a yawn as it was checking me out from close range.    This image has some flaws but I've always liked it anyway.
The weirdest pose of all 
The image above is obviously not a quality shot as I had very harsh light but I decided to include it here anyway because this is the strangest pose I've seen from a Burrowing Owl.  This bird literally sat down on its rump with its tail hanging down behind the perch and parallaxed me for quite a while.  It makes me smile every time I see this image and remember this endearing bird.
  Great pose, different angle
As you've seen, Burrowing Owls make great subjects.  But they can be frustrating too – especially when they turn their backs on you to perform for the camera.  I thought this would be an appropriate image to "end" with.
Ron