Flight shots of Barn Owls are very difficult to get because these birds are almost strictly nocturnal and typically fly and hunt only at night.  Photographing birds in flight in the dark or very low light is virtually impossible without using artificial lighting methods which I will not do for ethical reasons.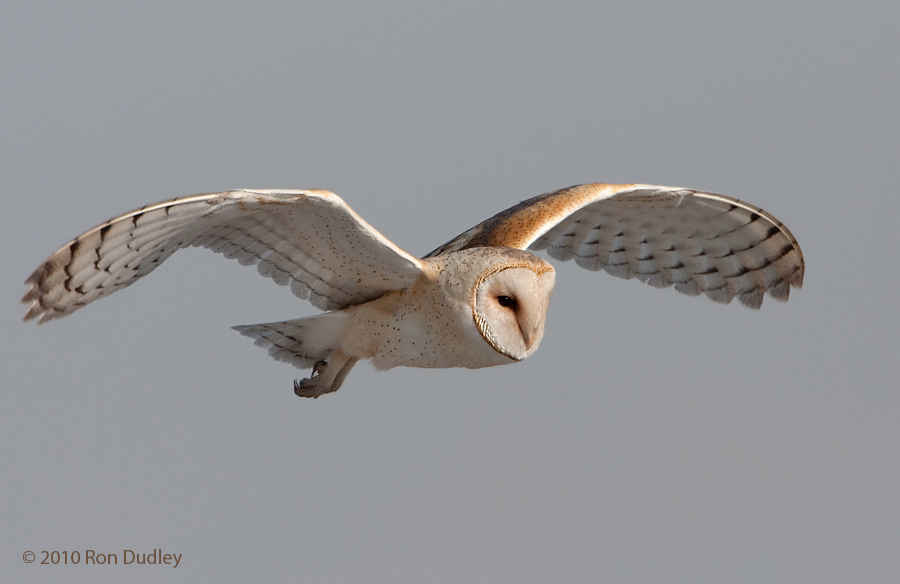 Barn Owl in flight during in full daylight  
I had never even seen a Barn Owl in flight until the winter of 2007-08.  That unusually frigid winter began early and brought more snow than usual to the valleys of Utah.  Suddenly, during January and much of February, Barn Owls were hunting the marshes close to the Great Salt Lake during daytime – sometimes until 10 or 11 AM.  Their usual strategy was to hunt for voles (very similar to mice) along the edges of Phragmites growth in the wetlands.  Typically it was very cold on those mornings – often between 0 and +20 degrees Farenheit which made it very uncomfortable standing outside in front of a tripod mounted camera for hours on end!  I very nearly lost some digits to frostbite many times but I wouldn't have missed it for the world.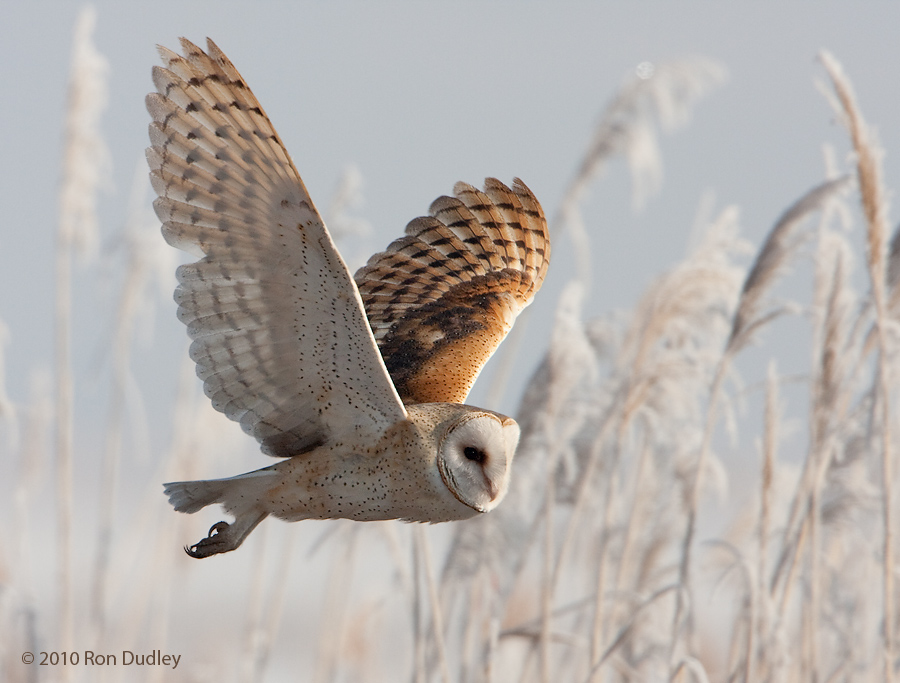 Barn Owl hunting voles along frosty Phragmites edges
I usually preferred to get Phragmites in the backgrounds of my flight shots if possible because they make such a nice backdrop.  In the photo above, there had been heavy fog with sub freezing temperatures so literally everything was covered with a heavy coating of frost.  A magical setting.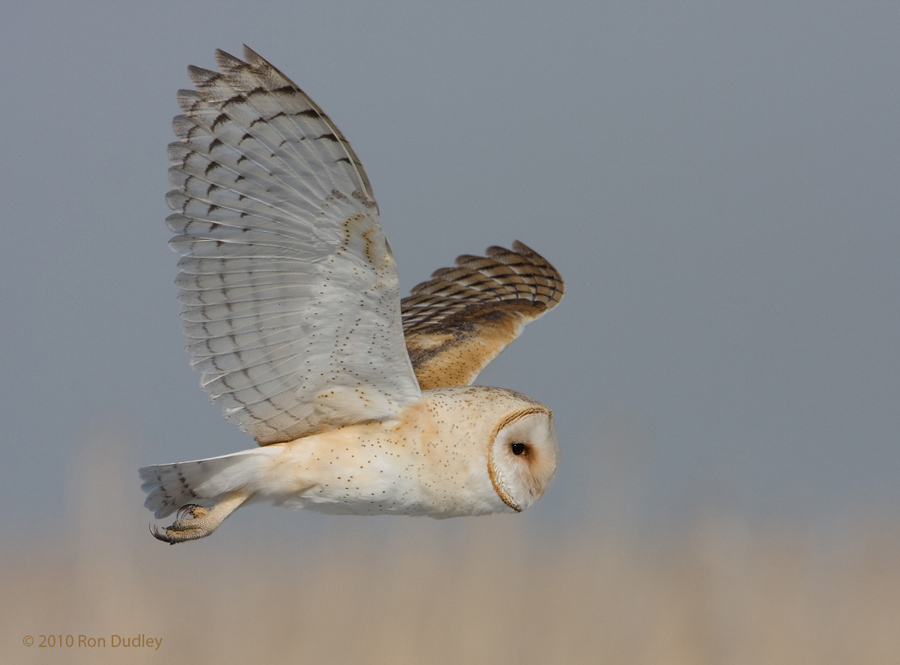 Barn Owl skimming Phragmites in background
Sometimes the Phragmites was far enough away to be very out of focus, like here.  I like the effect with the blue of the sky above. 
Barn Owl approaching head on 
I got very few images of them approaching me head on – this is one of the few.  This type of close, head on flight shot of a raptor has often been baited (food, typically mice, placed by the photographer in a place advantageous for photography to attract the bird for close shots).  None of my bird photography ever involves baiting.  I don't mean to sound self-righteous about it but baiting is a serious ethical issue for me and many other nature photographers.  But that's another story for another blog post…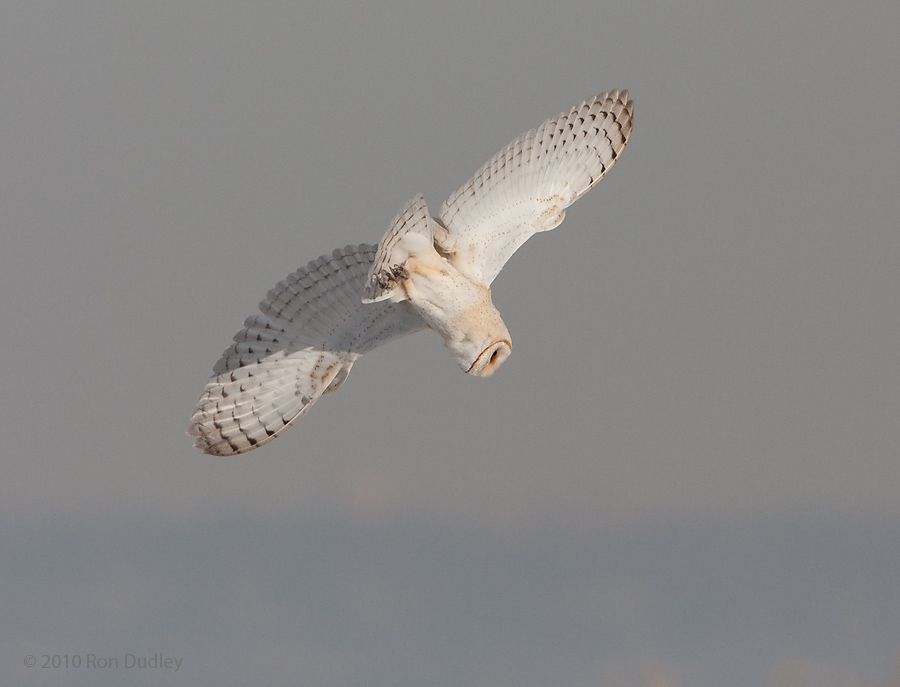 Barn Owl diving on prey
These birds would cruise along relatively slowly looking for voles.  When they would spot one they would turn on a dime and dive vertically trying to catch it.  One of these diving shots with a good look at the bird's eye always eluded me – an image that's very difficult to get for obvious reasons.  Still, I'm happy with this shot.  You can just see some of the out of focus Phragmites the bird is diving into at the bottom of the frame.  
Two Barn Owls hunting voles 
It was quite unusual to see two owls at the same time as they are solitary hunters.  Even more unusual was that I was able to get both birds in the plane of focus in this shot as the depth of field at 1120 mm with my camera, 500mm lens and 1.4 teleconverter is very shallow. 
A Missed Opportunity
Usually I was photographing these owls by myself,  just the way I prefer it, though at times there was a few other photographers next to me.  On this day I was shooting alone but soon two other photogs showed up and they were hand holding (no tripods) their cameras.  They were perhaps 200 feet from me and I knew they were standing too close to the Phragmites.  The problem with doing that is the phrag is tall and most of it is so thick you can't see through it to see the owls approaching.  That's what happened here – these two guys didn't even see the bird until it was just a few feet from them and as you can see they don't yet even have their gear up ready to shoot.  I could hear them groaning and cussing about their missed shots.   This isn't a great shot obviously but I include it here to give you a feeling for what it can be like photographing (and missing) these birds. 
    Barn Owl in a gully
This was my very first opportunity with a Barn Owl.  I'd been shooting Northern Harriers in early winter when a howler of a snowstorm blew in so I decided to put my tail between my legs and go home.  On the way out of the area I happened to look down into a deep gully just as it started to snow and there was this owl, hunkered down in a relatively protected place to ride out the storm.  I took a few shots then let the bird alone. 
Barn Owl in the fog and ice
Now back to the sad story of the winter of 2007-08 and the Barn Owls.  The reason these birds abandoned their normal nocturnal hunting habits was because they were starving.  The longer and colder than normal winter was very difficult for them.  It was so cold and there was so much snow that the voles spent less time on the surface foraging for food – instead eating mostly underground roots and vegetation.  This meant less access to food for the owls just when they needed the fuel most.  Many of the Barn Owls didn't survive the winter and very few were seen in the area the following winter.  This year so far there's just a few so they're likely still recovering.  In some of my images of them from that winter I can see their gaunt frames and must admit that it saddens me.  The photo above (taken in fog on a very cold morning), was shot just last winter and shows the harshness of winter survival for these magnificent birds.
The Lonely Hunter 
I've always liked this image, even though the owl is flying away from the viewer, because it reminds me so much of the tenacity of Barn Owls in harsh conditions.  Again I was on my way home just as a snowstorm hit and spotted this owl flying over a frozen pond on its hunting foray.  The bird's body was going up and down as its wings beat as is typical for owls and it paid no attention to me – it was focused on survival.
Ron